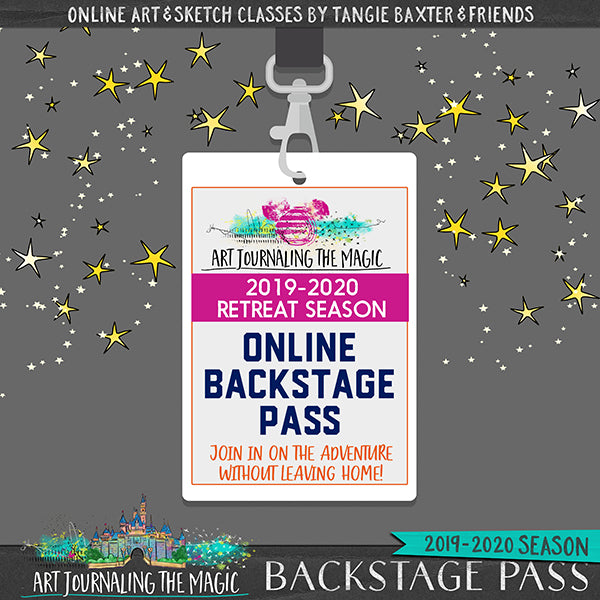 2019-2020 Retreat Season Online Backstage Pass
$ 195.00 $ 225.00
Would you love to attend the live retreats but can't get away this season? Well, you're in luck, you don't have to miss out on all the fun, friends, and art lessons! For the first time ever we're providing a way for you to be part of the magic ONLINE. You'll be one of our first ever online VIPs!
What you get:
Immediate Access to 3 Hour Pre-Recorded Art Party: Get instant access to the 2019-2020 live training call we did in October which was jam-packed with lessons, activities and more. Perfect for setting the foundation of water-coloring.
3 Follow-Ups: LIVE follow up online video calls with Tangie with a report from each of the retreats the Thursday after each retreat is over. These calls will be done via Zoom and will be recorded so you'll have lifetime access. These calls will also include one watercolor/drawing project or activity we'll do together!
Live Art Party with Retreat Lessons: Join us for a LIVE 3-hour art party online where Tangie will teach most of the lessons from the 2019-2020 season. This class will be held in February 2020 and will be recorded if you can't make it live with lifetime access
Hand-outs and Prints: You'll receive a digital copy of technique handouts and also get at least 2 prints from the retreat artwork samples ready for framing (you'll also get a few bonus printable collage sheets).
Guest Teachers: Get lessons from some of our guest teachers through pre-recorded videos with lifetime access
Behind the Scenes Look: We will have tons of social media archives for you to look at with lifetime access right inside the classroom, student artwork samples and tips & tricks for journaling on your own (you can create an adventure in your own city or backyard!)
Other Bonuses: We're constantly dreaming up new ideas and we're sure to add a few things to surprise you!
All dates for calls are scheduled and posted in the classroom.
We understand that nothing beats getting to come to a live retreat in person but we believe we can deliver the next best thing! We hope to have you as a VIP with a behind the scenes look at it all! Here's to the magic & creativity!
Are you a registered student for the live 19-20 retreat season? You will automatically get access to the backstage pass for free.
You will get an email after purchase with a download link. Please download the PDF and follow the instructions to get access to all of your courses.