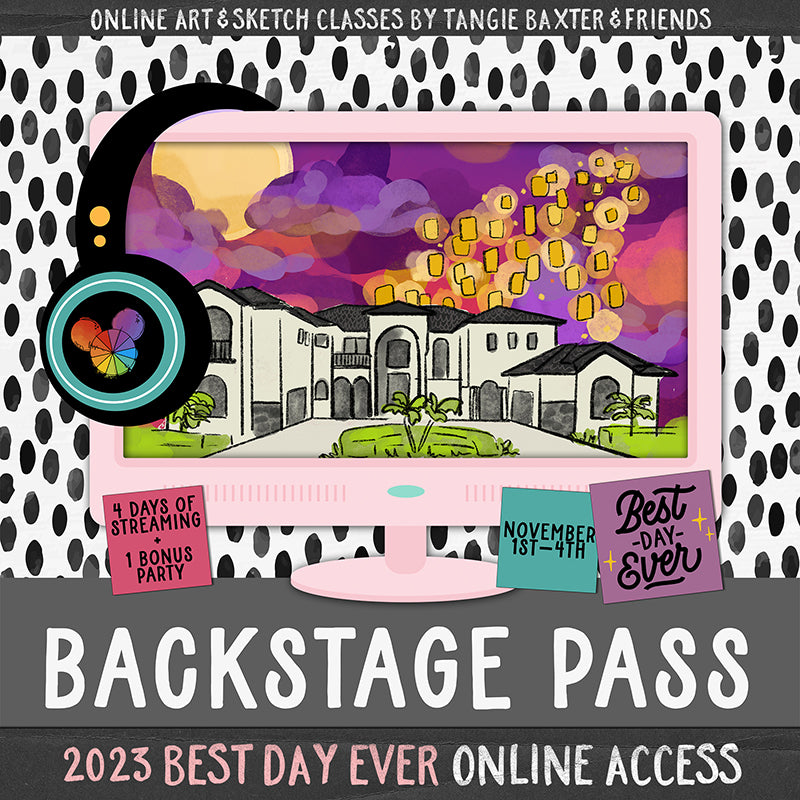 "Best Day Ever" Online Access: Live from Orlando!
$ 209.00 $ 239.00
Would you love to have access to our LIVE retreat in Orlando from home?
You're in luck! You don't have to miss out on all the fun, friends, and art lessons! We're providing a way for you to be part of the magic ONLINE. You'll be our special guest via technology!
What you get:
Streaming LIVE from Orlando Wednesday-Saturday: We'll go live a few times a day so that you can join us for the adventure via Zoom, wherever you are! (Including many of our lessons and lots of journal parties). Times will vary and are subject to the workshop schedule.
Stickers: Four printable 8.5x11 Magic Sticker Collage pages
Follow-up party: Join Tangie online on Thursday, November 9th, from 8:00 PM to 10 PM Eastern. [This will be recorded for you with lifetime access.]
Hand-outs: You'll receive a digital copy of technique handouts from most of our teachers 
Prints: You will also get two prints from the retreat artwork samples ready for framing.
Behind the Scenes Look: We will have tons of pictures to share and student artwork samples.
Interactive Community: Join our supportive community of fellow art enthusiasts. Share your progress, ask questions, and connect with new friends!
Other Bonuses: We're constantly dreaming up new ideas, and we're sure to add a few things to surprise you! (Hint: There are already some things waiting for you!)
Archives: Immediate Access to our 3-Hour Pre-Recorded Foundation Training. Jam-packed with lessons, activities, and more to help you get started if you are new to watercolor.
Lifetime Access: Enjoy lifetime access to the workshop content in our exclusive classroom, allowing you to revisit and refine your skills whenever inspiration strikes.
More details are in the classroom. If, for any reason, the equipment/technology doesn't cooperate, we will add additional online parties to enjoy when we get home.
We understand that nothing beats getting to come to a live retreat in person, but we believe we can deliver the next best thing! We hope to have you as our special guest for "Best Day Ever" with a behind-the-scenes look at it all! Here's to the magic & creativity!
Are you a registered student for the retreat? You will automatically get access to the backstage pass.
You will get an email after purchase with a download link. Please download the PDF and follow the instructions to get access to all of your courses.
PRE-SALE PRICE! Save $30 until 10/29/2023!